Mount Washington Private Accommodations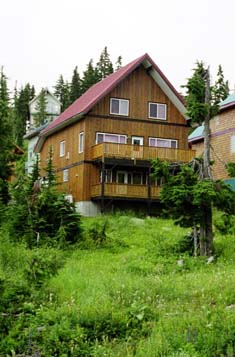 17 Foster's - Family Chalet - 4 BR & 2 BR Chalet - Fosters Place
Drive to/ski out of prime location all season chalet. Our mountain home is an ideal retreat for mature adults and families. We have 6 bedrooms, 2 full kitchens, 2 dens,4 bathrooms, tiled entrance, and large ski lock-up wiith sleds for your convenience. .
Last Updated: 21st September 2015
Contact
Janet or Sheldon Gagne
Pricing
Weekday: 500
Weekend: 600
Summer: ASK (size)
Weekly: 20 % off
Holiday: 750
Details
Minimum Booking: Two Nights
Check in: 4 pm
Check out: 11:30 am
Pets: No Pets Allowed
Smoking: No Smoking
Information
This property may also be rented as: Upper and Lower
Booking special:
If no snow 25% off your stay. 5 weeknights for price of 4 (non-holidays i.e. M-Th nights)
Booking notes:
Please contact us for floorplan, policies and location map. To help understand your needs, please include the number of adults & children expected in your group. We prefer to rent entire chalet, however we can split to 2 units as weReach us at 604-566-1672 week nights and 250-924-4276 on weekends. Our family chalet is a comfortable, spacious, well-appointed setting on a fee simple lot and ample driveway parking. We welcome you to our mountain retreat for your relaxation, outdoor & family fun
Rooms
Bedrooms: 6
Bathrooms: 4
Sleeps max: 16
King beds: 0
Queen beds: 3
Double beds: 3
Bunk beds: 1
Single beds: Unavailable
Other beds: 4
Builing Information
Reserved parking: 5
Parking area: Driveway
Access: Drive In Road Access
Wheelchair access:
Stories: 3
Square footage: =3000 Ft2?>
Orientation: Family
Ski in/Ski out: Yes
Closest lodge: Alpine Lodge
Closest lift: Unavailable
Bike storage: Yes
Wet storage: Yes
Kitchen & Laundry
Full kitchen: 2
Kitchenette: 0
Dishwasher: Yes
Garborator: No
Ice maker: No
Coffee maker: Yes
Cleaning: Cleaning Service Extra Charge
Microwave: Yes
Grill/BBQ: Yes
Linen: All Linens Provided
Laundry: Common Washer/Dryer
Entertainment
TV: Yes
DVD player: Yes
VCR: No
Stereo: Yes
CD player: Yes
Sleds/Tobogans: Yes
Cablevision: No
Internet: No
Games: 2 TVs screens in dens with DVD player (no cable) and assortment of DVDs, board games for kids and adults
Exercise Equipment: Ski lock-up has sleds, tobogans, kids shovels. Great location to access alpine lifts, X-country and Strathcona Park Trails
In unit Hot Tub: No
Common Hot Tub: No
In Unit Sauna: Yes
Common Sauna: Yes
Jacuzzi: No
Balcony: 2
Pool: None
Fireplace: None
Wood Stove: No
Wood Supplied: No
Heat Type: Electric
Air Conditioning: No
Reservation Request Form
Complete and send this form to check availability for your desired stay. The reply will be from the owners/managers of the rental property. (*) indicates a required field.
Additional Contact Info
Name: Janet or Sheldon Gagne
Phone: 604-566-1672