Mount Washington Private Accommodations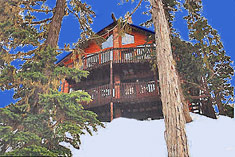 Chalet 57 - The Roost Chalet - Alpine Village
Our Chalet, has brick columns and is clad with cedar. Our Premium unit sleeps up to 6 The Studio sleeps up to 4 and is the only suite in the Village. Prices are just right for a large or small family, or a couple. See availability at http://theroost.ca
Last Updated: 2nd January 2015
Contact
Ted or Kathryn Haughton Upper/Lower
Pricing
Weekday: $80/$130
Weekend: $100/$180
Summer: $50/$75
Weekly:
Holiday: $150/$320
Details
Minimum Booking: Two Nights
Check in: 5:00 PM
Check out: 4:00 PM
Pets: No Pets Allowed
Smoking: No Smoking
Information
This property may also be rented as: Upper and Lower
Booking special:
Studio sleeps 2-4 starts at $80/n & is the only studio in the Village. Premium Suite sleeps 2-6 starts at $150/n For details view web at http://theroost.ca
Booking notes:
Please view our availability Calendar at http://theroost.ca for availability, floor plans and location. Ask about a booking using the booking form on our Web Site. This will enable us to get back to you quickly, thank you. Our Premium unit sleeps up to 6 and our Studio is ideal for 1 , 2 or a small family up to 4. A minimum 2 night stay is welcome and is our policy and weekends are Friday and Saturday nights. Thank you. We our ideally located in the village. Ski-in, Ski-out.
Rooms
Bedrooms: 3
Bathrooms: 1
Sleeps max: 6
King beds: 0
Queen beds: 2
Double beds: Unavailable
Bunk beds: 1
Single beds: 2
Other beds: 0
Builing Information
Reserved parking:
Parking area: Village Parking Lot
Access: Walk In
Wheelchair access: None
Stories: 3
Square footage: =1045/floor?>
Orientation: Family
Ski in/Ski out: Yes
Closest lodge: Alpine Lodge
Closest lift: Hawk
Bike storage: Yes
Wet storage: Yes
Kitchen & Laundry
Full kitchen: 1
Kitchenette: 1
Dishwasher: Yes
Garborator: No
Ice maker: No
Coffee maker: Yes
Cleaning: Cleaning Supplies Provided
Microwave: Yes
Grill/BBQ: No
Linen: All Linens Provided
Laundry: In Unit Washer/Dryer
Entertainment
TV: No
DVD player: No
VCR: No
Stereo: No
CD player: No
Sleds/Tobogans: Yes
Cablevision: No
Internet: No
Games: Plenty of Board Games
In unit Hot Tub: No
Common Hot Tub: No
In Unit Sauna: Yes
Common Sauna: No
Jacuzzi: No
Balcony: 2
Pool: None
Fireplace: Wood
Wood Stove: Yes
Wood Supplied: Yes
Heat Type: Electric
Air Conditioning: No
Reservation Request Form
Complete and send this form to check availability for your desired stay. The reply will be from the owners/managers of the rental property. (*) indicates a required field.
Additional Contact Info
Name: Ted or Kathryn Haughton Upper/Lower
Phone: 250-592-7049